It dawned on me, after three years of living in Canada, that we don't get kumara here. We have sweet potato (yellow kumara) and yams (orange kumara) but none of the beautiful dark red/purple skinned potatoes we get back home. The typical New Zealand kumara, which we used to roast alongside lamb for Sunday dinner or fry into kumara chips to accompany our fush, is quite unlike the sweet potato here – much starchier with a creamy white flesh. When I saw them lumpy purple kum'ra at Woolworths I did a double take – they are quite the bizarre root vegetable.
This recipe uses kumara (or sweet potato) as the bulk of the cake. With a few spices, a whirl of melted chocolate and a fluffy cream cheese topping, its a superb picnic dessert – we enjoyed it at the park over the road with neighbourhood friends. For this cake's icing, I replaced half the cream cheese with some silken tofu – it made for a much lighter icing, perfect for dipping strawberries into.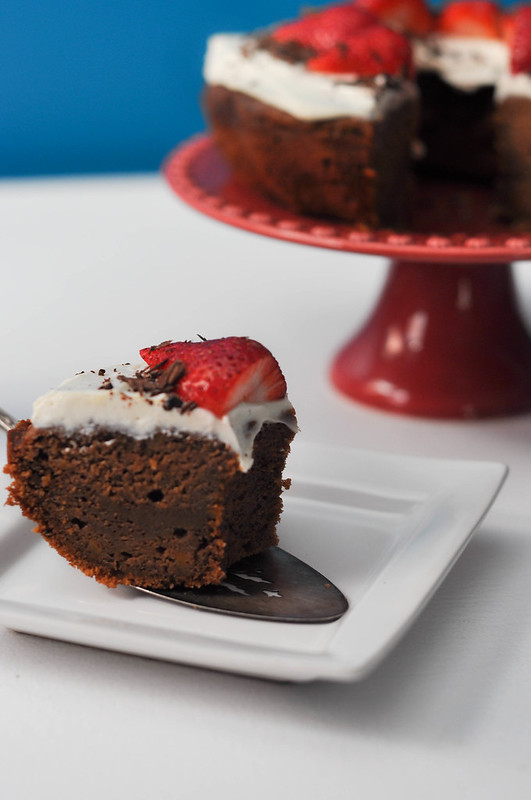 Spiced Sweet Potato Chocolate Cake
Recipe adapted from Kaipara Kumara
When it comes to spices, fresh is mandatory. You can find whole nutmeg and whole cardamom pods at most supermarkets, or at Silk Road Spice Mechant in Inglewood. Silk Road also has the most fresh, fragrant cinnamon. We can't get enough of their Vietnamese Saigon Cassia Cinnamon. To grind cardamom, simply pop the seeds out of the husk into a coffee grinder (one that isn't used for coffee) and whirr until fine.
50g dark chocolate, chopped
260g sweet potato, boiled and mashed
100g butter
3/4 cup Demarara sugar (or brown sugar)
2 eggs
3/4 cup flour
1 tsp baking powder
1/2 tsp good quality cinnamon
1/4 tsp freshly grated nutmeg
1/4 tsp freshly ground cardamom
pinch salt
1/4 cup milk
Topping:
150g cream cheese (half package)
150g silken tofu (half package)
honey to sweeten
freshly ground cardamom
Place a glass or metal bowl over a small pot of water. Bring the water to the boil and melt the chocolate in the bowl, aka the bain marie. In a stand mixer, cream the butter and sugar until pale. Beat in the eggs. Add the kumara and beat until light and fluffy, followed by the melted chocolate. Add the flour, baking powder, cinnamon, nutmeg, cardamom and salt to the mixture and beat on low speed until combined. Stir in the milk. Pour into a greased 23cm round or bundt tin and bake at 190°C (375˚F) for 45 minutes or until a toothpick comes out clean. Allow to cool.
In a blender, whizz together the cream cheese and tofu until smooth. Add honey to taste (about 2 tablespoons) and the cardamom. Ice the cake and decorate with fresh strawberries and shaved chocolate.